G5 Electronic Flight Instrument
R24,840.07 – R42,928.93 excl. Vat
*PLEASE NOTE*
Due to a change in the batteries being used on the G5's, Garmin are only expecting shipping on these units Mid February 2021. We apologize for any inconvenience this may cause.
Description
All-glass Backup or Primary Flight Instrument with Optional Autopilot Capability
Bright, sunlight readable 3.5-inch (88.9 mm) LCD color display, sized to fit standard 3-1/8 inch (79.4 mm) instrument cutout
Can be used as a standalone flight display or fully integrated, dissimilar backup flight instrument for G3X and G3X Touch or other EFIS glass cockpits
Replaces traditional electromechanical backup instruments, combines essential flight information in one easy-to-read display
Provides standalone or backup autopilot control, allowing coupled GPS approaches to be flown or continued in the event of a primary display loss
In case of aircraft power loss, optional battery backup sustains G5 flight instrument with up to 4 hours of emergency power

Designed by our dedicated "Team X" engineering group specifically for the experimental amateur-built (EAB) and light sport aircraft (LSA) markets, the Garmin G5 electronic flight instrument brings new levels of reliability, affordability, system integration and situational awareness to our G3X™, other EFIS systems or as a standalone primary flight instrument. Replacing traditional mechanical instruments, the G5 can serve as a standalone backup or primary flight instrument for space-saving, all-in-one flight data reference — or as a fully integrated, dissimilar glass primary flight instrument backup for your Garmin G3X or G3X Touch flight displays.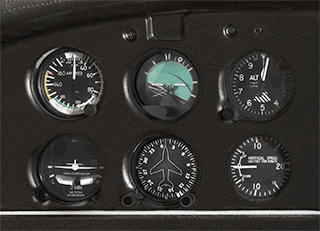 All-in-one, One for All
By combining visual cues and data readouts once scattered across a myriad of instruments, the Garmin G5 electronic display makes flight information easier to scan – so pilots can respond more quickly and intuitively to any inflight situation. The Garmin G5 efficiently consolidates all essential situational reference for aircraft attitude, vertical speed, altitude, airspeed, slip/skid, and baro setting. A built-in GPS receiver and antenna (with an option for external GPS antenna connection) provide a highly accurate ground speed and ground track readout. Better still, the complete G5 unit fits into a single 3-1/8 inch standard instrument cutout, taking up just a fraction of the space and weight previously required by conventional gyro-based instrument displays.
It's Even Better with G3X
The G5 integrates uniquely with the Garmin G3X and G3X Touch systems to provide even more backup display capability. With G3X system integration, the G5 can provide heading, course deviation, flight director cues, autopilot mode annunciation, turn coordination, glideslope/glidepath, altitude and airspeed bug settings, and more. The G5's bright, high-resolution QVGA screen lets pilots view all this critical data at a glance. And when teamed with Garmin autopilot servos and the GMC 307 or GMC 305 mode controller interface, the G5 provides a backup or standalone autopilot function. In the event the primary display becomes unavailable, the G5 seamlessly soldiers on, maintaining the majority of autopilot control functions – including the ability to fly coupled GPS approaches. Plus, in the unlikely event that your G3X system's ADAHRS reference becomes unavailable, the G5 will provide backup attitude information to the G3X displays as well. So, by adding the G5 to your G3X system, you get the benefit of a second attitude source, as well as supplemental flight display and autopilot support.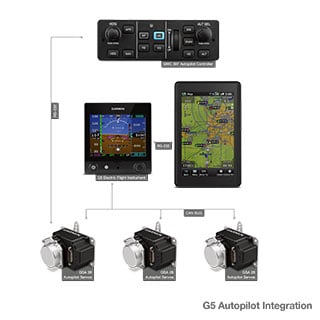 Standalone Flight Instrument with Autopilot
The G5 may also be installed with a GMC 305 or he serial port on the G5, enabling the autopilot to couple laterally to the flight plan and vertically to support VNAV descents to pattern altitude. Other lateral and vertical autopilot modes selectable from the GMC 305 or GMC 307 include heading, pitch, roll, altitude hold, vertical speed hold, and airspeed hold. Even the control panel's level (LVL) mode button is supported to engage the autopilot and restore the aircraft to level flight at the press of a button.
More Power in Reserve
For the ultimate "get home" option, the Garmin G5 is available with a potent lithium-ion battery, which can provide up to 4 hours of emergency operation, should your aircraft ever lose power to the avionics. And if you use one of our aera® series aviation portables¹ as a backup, you can fly with battery-powered moving map navigation guidance – as well as the G5's flight display information – to make that aircraft electronics outage virtually a non-event.
Using Your Electronic Flight Instrument
¹Sold separately
Physical & Performance
Electrical: 14 or 28 VDC aircraft power
Unit size: 3.4″W x 3.6″H x 2.6″D (86.4 x 91.4 x 66.0 mm)
Weight: 8.8 oz (249.5 g), unit; 4.5 oz (127.6 g) battery (optional)
Display size: 3.5″ diagonal (88.9 mm diagonal)
Display resolution: 320 x 240 pixels (QVGA), LED backlit color LCD
Receiver: High-sensitivity GPS
Maximum indicated airspeed: 300 kts
Altitude range: -1,400 – 30,000 feet
Vertical speed range: ± 20,000 feet/minute
Pitch/roll range: ±360°
Backup battery (optional): Rechargeable lithium-ion
Battery life: Up to 4 hours
Additional information
| | |
| --- | --- |
| Weight | N/A |
| Dimensions | N/A |