GTN 625
$7,638.81 excl. Vat
Please Note this is a discontinued product and has been replaced by the GTN 625Xi.
Out of stock
Description
A World of Navigation at Your Fingertips
Touchscreen GPS/MFD backed by decades of proven technology
Fly WAAS LPV approaches down to 200′ minimums
Displays traffic, weather, terrain and more
Interfaces with popular avionics using industry standard protocols
Approved for installation in hundreds of aircraft models

GTN 625 is a 2.64″ standalone GPS navigator that puts high-resolution terrain mapping, graphical flight planning, multiple weather options and traffic display right at your fingertips.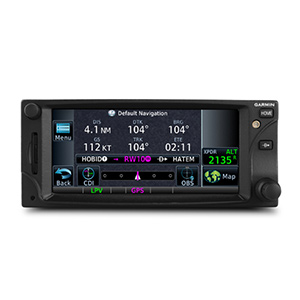 Touch and Go
With its revolutionary touchscreen interface, GTN 625 puts primary functions just a few taps away. Pan across the map screen by swiping your finger across the 4.9″ high-resolution TFT display, and enter waypoint data with the onscreen alphanumeric entry. Raised grips in the bezel and a shelf across the lower edge of the display serve as gripping points in both smooth and turbulent flight conditions. Traditional concentric knobs are also available for data input. If you have a GNS 430W/530W, active flight plans automatically crossfill from the GTN to the GNS, or just manually crossfill user waypoints between devices.
Navigate with Ease
Edit your entire route using the map screen and enter new waypoints or modify existing ones. A handy "rubber band" feature lets you grab any leg of your flight plan route or direct-to and move it to accommodate a deviation or ATC amendment to your flight plan. Enter your most recently visited or nearest airports as waypoints and "Direct To" destinations.
Execute Precision Approaches
The robust 15-channel GPS receiver generates 5 position updates per second. This SBAS/WAAS-certified technology allows you to fly GPS-guided LPV glidepath instrument approaches down to as low as 200 ft. In addition, precise course deviation and roll steering outputs can be coupled to select autopilots so that IFR flight procedures may be flown automatically. This includes all ARINC 424 leg types, except RF legs. (For example, when coupled with a G500/G600 flight display, the aircraft can fly fully coupled missed approaches, including heading legs.)
See More Than Ever Before
GTN 625 brings enhanced situational awareness to your cockpit. With high-resolution terrain mapping — including topography features, cities, airports, terminal areas and SUAs — and optional Class B TAWS alerting, you'll find your way around the airspace safely and with ease. Smart Airspace™ automatically highlights airspace close to your current altitude and de-emphasizes airspace away from the current altitude. The system even allows you to load and follow Victor and jet airways. On the ground, built-in SafeTaxi® airport diagrams give you geo-referenced runways, taxiways, FBOs and hangars available in either the U.S., Europe or Canada.
Add Traffic, Weather & More
The dual-link GDL® 88 allows the GTN 625 to display up to 60 ADS-B traffic targets. TargetTrend™ relative motion technology offers a faster way to judge the direction and closure rate of intruding targets in relation to their aircraft's position. And unique SURF technology supports the display of ADS-B-equipped surface targets on SafeTaxi airport diagrams, including taxiing aircraft and ground vehicles. GDL 88 can also receive the FAA's subscription-free FIS-B weather broadcasts that include graphical NEXRAD radar information, as well as NOTAMs, METARs and TAFs. GTN gives GDL 88 the WAAS position source required for ADS-B, so a WAAS version of the GDL 88 is not required. Consider adding a Traffic System to compliment GDL 88 for the best possible traffic coverage from now until 2020.
Couple the system with a GDL® 69 series datalink receiver to receive XM MX Satellite Weather and SiriusXM Satellite Radio (subscriptions required). An optional GSR 56 provides World Wide Weather data virtually anywhere on the globe, as well as the ability to make and receive phone calls and send and receive texts messages while in the air.
And because the GTN 625 can control the GTX™ 33 remote transponder, installing it could also save you valuable panel space.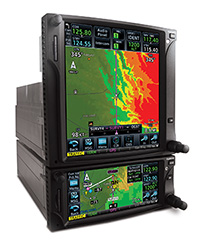 Fly with Helicopter-Specific Enhancements
The GTN 625 is available with a number of optional enhancements to help meet the unique demands of helicopter missions. It's been designed to meet the stringent helicopter vibration and temperature testing standards needed for environmental qualification. It also features a helicopter-specific obstacle database that adds nearly 30,000 low-altitude obstacles, as well as a navigation database with heliports and high-resolution terrain database. For added safety, optional HTAWS provides 5-color shading to show nearby terrain in proximity to your helicopter and provides voice callouts when descending below 500'.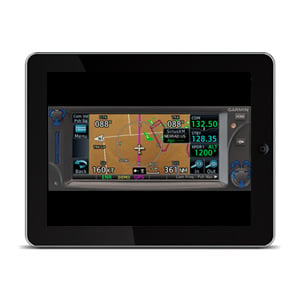 Stay Up to Date
The GTN 625 features a front-loading SD™ card reader, so you can easily update your databases. PilotPak™ database bundles are now available on a single aircraft basis, saving you money and simplifying the update process. Visit flyGarmin.comto learn more.
See it in action at an upcoming seminar or with our free PC Trainer download or iPad® app.
FEATURES:
Menu-driven graphical interface on color LCD touchscreen display
Feature-rich MFD capabilities: moving map, airways, approaches and more
GPS TSO'd to C146c, authorized for Class 1,2,3 (LPV)
GPS WAAS-certified to Gamma-3 approach capability
WAAS-corrected GPS signal accuracy to 1 M RMS
Graphical flight planning (including airway navigation)
Extensive optional interface capabilities: lightning, weather, traffic, TAWS-B terrain alerting
Integrated control/display for remote transponder
Flight control system interface for select autopilots
SPECIFICATIONS:
Physical & Performance

Unit dimensions, WxHxD
6.25″W x 2.65″H x 11.25″D (15.9 x 6.7 x 28.6 cm)
Display size, WxH
4.46″W x 1.98″H (11.33 x 5.02 cm); 4.9″ diag (12.4 cm)
Display resolution, WxH
600 x 266 pixels, 600 x 266 pixels
Display type
Color TFT LCD; sunlight readable
Weight
5.4 lb (2.48 kg)
Voltage range
11-33
Built-in VHF Comm
no
Transmit power
no (VHF comm not included)
Built-in VOR/Loc/Glideslope
no
SBAS/WAAS receiver
15 channel; TSO-C146c
IFR or VFR
IFR

Maps, Databases & Memory

Basemap
Yes
Navigation data
full and non-precision approaches, DPs and STARs, Victor/Jet Airways
Navigation database coverage areas
Americas, International or Worldwide*
Preloaded Terrain database
Yes
Preloaded Obstacle database
Yes
Preloaded SafeTaxi™ airport diagrams
Yes
Preloaded Garmin FliteCharts®
Not available
Jeppesen ChartView™
No
Waypoints/favorites/locations
1000
Flight plans
99 reversible; up to 100 waypoints each

Features & Benefits

Fly SBAS/WAAS approaches
Yes
Front-loading datacards (conveniently update database information)
Yes
SiriusXM™ Weather & Radio compatible
Yes
Traffic Information Services (TIS) alerts compatible
Yes
Class B TAWS alerting compatible
Yes
Additional
2 year warranty
Eligible for PilotPak databases*Databases included: world-wide basemap, world-wide obstacles, world-wide terrain, region-specific NavData, US SafeTaxi, US Airport Directory

Optional XM WX satellite weather and SiriusXM Satellite Radio

SafeTaxi® airport diagrams
Award-winning product support and 2-year warranty
IN THE BOX:
GTN 625
Cleaning cloth
Installation kit
Simulation software DVD
Familiarization video DVD
Pilot's guide
Cockpit reference guide
Complimentary database update certificate
INTERFACES:
Garmin products have been designed for compatibility with a wide range of avionics. To confirm compatibility of Garmin equipment with your specific aircraft make/model and current avionics configuration, please consult your Authorized Garmin Dealer.
Interface
Manufacturer
Model
Notes/Info
ADS-B Traffic Display and Control
Garmin
GDL 88
GTS 800/820/850
Air Data Computer
B & D
90004-003
Honeywell (Bendix/King)
KDC 281
KDC 481
Insight
TAS 1000
Altitude Serializer/Encode
ACK Technologies
A-30 (Mod 8 and above)
Icarus Instruments
3000
Sandia
SAE 5-35
Shadin
8800T
9000T
9200T
Trans-Cal Industries
IA-RS232-X
SSD120
Audio Panel
Garmin
SL 10
Installation of GMA 35 must include a GTN 7XX for GMA 35 control functions
SL 10MS
SL 10M
SL 10S
SL 15
SL 15M
GMA 340
GMA 347
GMA 35
GMA 350/350H
Honeywell (Bendix/King)
KMA 24
KMA 24H-70/71
KMA 26
KMA 28
PS Engineering
PMA 6000
PMA 7000 Series
PMA 8000 Series
Autopilot
Bendix
M4C
M4D
Century
I/II/III/IV
21/31/42
2000
Trident
AK 1081
Cessna
300B/400B/800B
300 IFCS/400 IFCS/800 IFCS
Collins
APS 65
Honeywell (Bendix/King)
KAP 100/140/150
KFC 150/200/250/300
KFC 225/275/325
Sperry
SPZ 200A/500
S-TEC
System 20/30/40/50/55/60-1/60-2/60 PSS/65
System 55X
ST-901
Datalink Weather Display and Control
Garmin
GDL 69/69A
GSR 56 also provides text/voice communication
GSR 56
EFIS
Garmin
GDU 620
Avidyne
EXP5000
P/N 700-00006-( )
Honeywell (Bendix/King)
EFS 40/50 (SG 465)
EHSI
Sandel
SN 3308
SN3500/4500
FIS-B Weather Display and Control
Garmin
GDL 88
Fuel/Air Data
Garmin
GTX 327
ARNAV
FC-10
FT-10
Electronics International
FP-5L
JP Instruments
EDM-700
Shadin
F/ADC-200
F/ADC-2000
91204XT(38)D (Miniflo-L)
91053XP (Digiflo-L)
91053XT-D (Digiflo-L)
912802-( ) (Digidata)
IRU/AHRS
Collins
AHS-85E
Lightning Detection Display and Control
L-3 Communications
WX-500
Multifunction Display
Garmin
GMX 200
MX 20
Avidyne
EX500 (P/N 700-00007-( ))
EX5000 (P/N 700-00004-( ) or P/N 700-00030-( ))
NAV Indicator
Garmin
GI 102/A
GI 106/A
Century
NSD 360A
NSD 1000
Collins
331A-6P
331A-9G
PN101 (331A-3F/3G)
IND-351D
Honeywell (Bendix/King)
KI 206
KI 208/A
KI 209/A
KI 525A
KPI 552/B
KPI 553/A/B
Mid Continent
MD222-402
MD222-406
MD200-302/303/306/307
Sperry
RD 444
RD 550A
RD 650
S-TEC
ST 180
TAS/TCAS/TIS Traffic Display and Control
Garmin
GTS 800/820/850
GTX 330/33/330D/33D
Avidyne (Ryan)
TAS 6XX (TCAD 9900BX)
Honeywell (Bendix/King)
KMH 880 (KMH 820)
KMH 980 (KMH 920)
KTA 870 (KTA 810)
KTA 970 (KTA 910)
L-3 Communications
SKY497 (Skywatch)
SKY899 (Skywatch HP)
Terrain Avoidance and Warning System
Honeywell (Bendix/King)
KGP 560
KMH 880 (KMH 820)
KMH 980 (KMH 920)
Transponder Display and Control
Garmin
GTX 32
GTX 327
GTX 328
GTX 33/33D
GTX 330/330D